So what is iChanged then?
I have been monitoring the Apple IPad UK page for around 2 or 3 weeks, by going to the page a few times a day to see if there was an updated. I thought it would be rather handy to have my IPhone update me via notification message when an update to the page HTML has occurred. I built it for myself and thought why not extend it to take any URL you want to monitor and release it for all.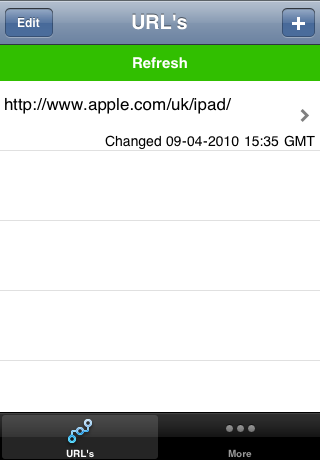 How to use iChanged
There's nothing to it. Simply find a URL (web page) that you want to monitor, then take note of the location in the address bar (including the http://). If you're doing this on Safari on the iPhone, you can copy and paste the URL. Click the plus button in the application, type or paste the URL into the text box and hit Go. The URL will be sent to our notification server and will begin to monitor it for changes. When a change has been found to the page, our systems will send you a notification message.
Sounds useful. How much does it cost?
A lite version that can handle monitoring of up to 3 URL's will be available for free. A Premium version of the App will be released that will have enhanced features soon.
That's just what I was looking for! How do I get iChanged?
It's available right now on the UK App Store. This version of the application is free of charge.Download iChanged Lite (using ITunes App Store)

I've got some questions...
Follow me on Twitter @robwhistler or contact me at rwhistler AT gmail.com.